Free Dapple Bottle & Dish Liquid Soap or Wipes After Rebate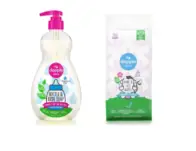 Free Dapple Bottle & Dish Liquid Soap or Wipes After Rebate
Here's an awesome freebie that will score you Dapple Baby-Friendly Bottle & Dish Liquid Soap or Dapple Hand & Face Wipes, Hint of Lavender 30 count for free with this mail-in rebate offer!
Purchase one of the items listed above at Walmart, print the form on the linked page, mail it in and claim your rebate up to $5! Requests must be received by 1/31/2020
Get more Freestuff here
Continue reading Free Dapple Bottle & Dish Liquid Soap or Wipes After Rebate at FTM.
Original content © For the Mommas https://forthemommas.com/free-stuff/free-dapple-bottle-dish-liquid-soap-or-wipes-after-rebate