Free Food – Big List of 100 Restaurants to Eat at for Free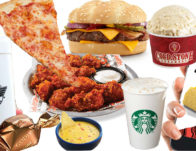 Free Food – Big List of 100 Restaurants to Eat at for Free
Here's an awesome freebie that is not worth missing! Eat for free in more than 100 Restaurants. Here is the big list of all of the restaurants that offer free food!
Acapulco: Get a free appetizer with the purchase of two entrées with email sign up.
Applebee's: Enjoy a free treat on your birthday when you sign up for this restaurant's eClub.
Continue reading Free Food – Big List of 100 Restaurants to Eat at for Free at FTM.
Original content © For the Mommas https://forthemommas.com/coupons/free-food-big-list-of-100-restaurants-to-eat-at-for-free-2